What Is Organic Hemp Extract?
The hemp revolution is here! The hemp plant is loaded with beneficial nutrient constituents known as cannabinoids that calm the mind and promote homeostasis (balance) throughout the body. Now, we're excited to offer you an organic, full-spectrum, CBD-rich formula made with the best American-grown hemp.
Gluten-free, non-GMO, Kosher and tested for purity and safety, our Organic Hemp (Cannabis sativa, whole plant including root) is perfect for helping you relax, sleep better, and put out the fire of sore, aching joints. 3,300 mg of hemp extract per bottle in a base of organic, coconut-derived MCT oil. It has a natural flavor and contains no unnecessary additives. This is the best hemp extract anywhere!
"The effectiveness of Organic Hemp Extract is unmatched. It has worked wonders for joint aches and chronic back pain... while others have found the effects to be extremely calming and relaxing."
Read More
Health Benefits of
Organic Hemp Extract
Hemp contains phytocannabinoids, including cannabidiol (CBD), which support the endocannabinoid system — responsible for maintaining homeostasis throughout the body. Our organic hemp extract contains MCT oil for better bioavailability.
Stress Relief
Say goodbye to the uneasiness of a loud mind and say hello to serenity. The compounds in hemp help you relax and stay ahead of stress.
Better Sleep
Looking for a natural sleep product that works? This is it. Best of all, the fast-acting formula is perfect to take a couple of hours before bed.
Joint Support
Exercise, overuse, and age can leave you with sore joints. Hemp keeps your inflammatory response in line so you can move easily.
The Top 5 Reasons to Take Organic
Hemp Extract
Suggested Use
Shake bottle well. Take 1 ml, hold in mouth for 1 minute, then swallow. Sensitive individuals may desire a reduced serving. Use 1-2 times daily or as recommended by your healthcare provider.
NUTRITION FACTS
About 30 servings per container
Serving Size
1 ml
Amount Per Serving
Calories
10
Organic Hemp 110mg
(Cannabis sativa, whole plant)
* Percent Daily Values (DV) are based on a 2,000 calorie diet.
† Daily Value (DV) not established
Ingredients: organic hemp (cannabis sativa, whole plant), organic MCT oil (fractionated coconut oil)
IMPORTANT INFORMATION: This product does contain very low, legal amounts of THC. Because our certified organic, full-spectrum hemp extract is a highly concentrated source of cannabinoids, terpenes, and other active ingredients, we suggest starting with a small amount, 6 drops, and adding a few drops every couple of days until you find the amount that provides the benefits you desire.
Most people notice mild calming benefits within 30 minutes but will experience peak benefits after 1 to 2 hours. Because of this delayed response, we do not recommend taking additional product until 6 hours later. We do not suggest taking more than 1 ml at a time or more than 2 ml per day. All body types and systems metabolize and respond differently. For this reason, we suggest starting slowly and adjusting over time.
What's In Organic Hemp Extract?
Proposition 65 Warning for California Customers
WARNING: This product can expose you to lead, which is known to the State of California to cause reproductive harm or birth defects. For more information, go to www.P65Warnings.ca.gov
Let's Break It Down



Per 1 ml
Serving

Hemp

CBD

61.8 mg/mL

CBC

1.9 mg/mL

THC

1.9 mg/mL (0.21%)*

CBG

1.43 mg/mL

CBDV

0.486 mg/mL

Total Cannabinoids

67.6 mg/mL

Other**

47.9 mg/mL

Total Hemp

121.2 mg/mL

* THC Notice: The THC content of our Organic Hemp Extract is 0.21-0.28 percent, which is confirmed by a third-party lab at the time of manufacture, and below the 0.3 percent federal limit per the 2018 U.S. Farm Bill.

** Other Nutritious Compounds: fatty acids, protein, chlorophyll, fiber, flavonoids, terpenes, and a spectrum of synergistic metabolites.
What's Not In It
We will never use ingredients or packaging that could harm your health or the environment. Our Organic Hemp Extract is 100% free of any:
Why Our Organic Hemp Extract Is Different
Potent, effective, pure, and reliable — our organic hemp extract provides all the benefits of Cannabis and its constituents.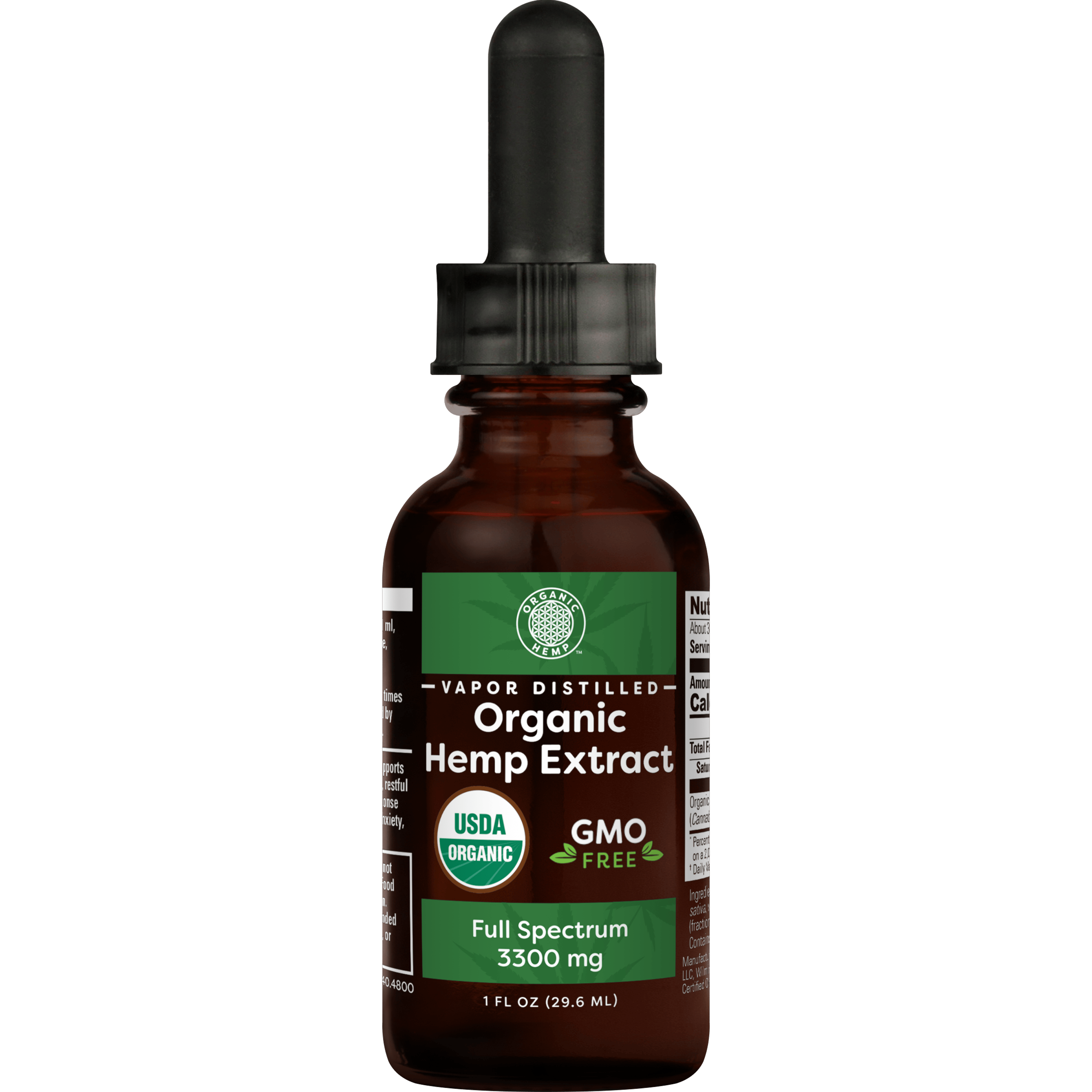 VS
Trustworthy Source
Our organic hemp extract is made with the full plant from the best hemp grown in the United States and produced with the care and quality our customers expect.
Risky, Unknown Vendors
Many profit-oriented companies have flooded the hemp market with untested and potentially dangerous products that are heavy on marketing but low on quality. In the rush to sell products, many companies use hemp grown in toxic conditions.
Organic, Full-Spectrum Formula
Our hemp extract is one of few certified-organic, whole-plant, cold-processed, full-spectrum extracts. Full-spectrum means all the phytocannabinoids, including CBD, terpenes, antioxidants, and other compounds are retained. Together, their synergistic effect is stronger than the individual components.
Incomplete Extraction
Most hemp extracts remove many of the plant compounds, keeping only CBD or a few terpenes. If even one natural compound is missing, it is not full-spectrum. Many manufacturers lose other vital constituents in the manufacturing process. These extracts won't produce the desired health effects.
Multiple Potency & Price Options
Whatever your needs or budget, we have an Organic Hemp Extract to match. .
Weak & Expensive
Compare for yourself and you'll see that other hemp extracts are more expensive and less potent. Per serving, it's not uncommon to find other products that are half as potent yet cost twice as much.
Tips for Taking
Organic Hemp Extract
Maximize Absorption
Holding the extract in your mouth for a longer period before swallowing can increase absorption. Eating citrus fruits after taking it may also improve the absorption of this organic hemp extract.
Time Your Servings
Some people find that taking hemp extracts or CBD at night wakes them up initially but enhances their sleep later on. Until you know how you're affected, take this product at least two hours before bed.
Our Pure Earth Promise
We use only the best ingredients. You may notice slight taste, smell, and color variations in each bottle. While other companies use chemicals and dyes to hide the naturally occurring variations, we proudly embrace them as a reminder of the ingredients' natural authenticity.
These statements have not been evaluated by the Food and Drug Administration. This product is not intended to diagnose, treat, cure or prevent any disease.